9/18 Available on iTunes Around the World "Miss Luxury (WEST COAST MIX )"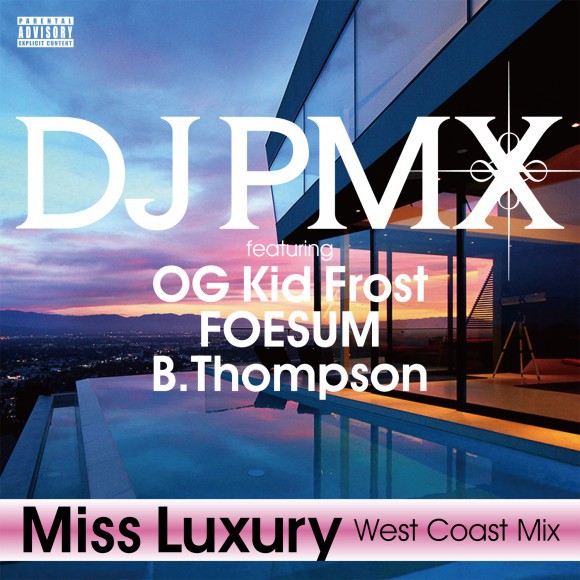 Top Hiphop DJ/Producer in Japan, DJ PMX, also a member of DS455,
has released an international remix of his biggest domestic hit
"Miss Luxury" for the first time ever.
He featured the 3 legendary westcoast native rappers,
OG Kid Frost, FOESUM and a young talented singer, B. Thompson.
You would see that how Japanese Hiphop should be for real.
Available on iTunes around the world
USA
https://itunes.apple.com/us/artist/dj-pmx/id73443680
UK
https://itunes.apple.com/gb/artist/dj-pmx/id73443680
FRANCE
https://itunes.apple.com/fr/artist/dj-pmx/id73443680
ITALIA
https://itunes.apple.com/it/artist/dj-pmx/id73443680
TAIWAN
https://itunes.apple.com/tw/artist/dj-pmx/id73443680
THAILAND
https://itunes.apple.com/th/artist/dj-pmx/id73443680
———————————————————————————————————————————
日本のトップDJであり、トップ・プロデューサーである、DS455のメンバーとしても知られるDJ PMXが、最大のヒット曲である"Miss Luxury" のインターナショナル仕様のリミックスをリリース。インターナショナル仕様のリミックスは長い彼のキャリアの中でも初めて。
この曲には3人の伝説的(レジェンダリー)なラッパー、OG Kid Frost,とFOESUMの2人、そして才能溢れる若手シンガーのB. Thompsonがゲストに迎えられている。
これを聴けば、日本のヒップホップの成熟した姿というものを感じてもらえるだろう。
—————————————————————————————————————————————————