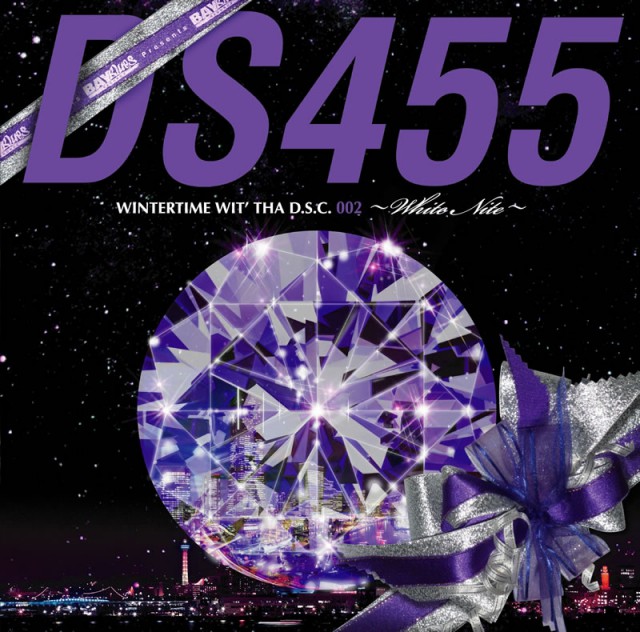 BAYBLUES RECORDZ Presents WINTERTIME WIT'THA D.S.C.002

DS455

2007.12.12
¥2,000(tax in)
UPCH-1574
BAYBLUES RECORDZ / UNIVERSAL-J
DETAIL
■BAYBLUES RECORDZが贈る極上のウィンターアルバム、第二弾!全曲新録!
2006年末にリリースされ大ヒットしたBAYBLUES RECORDZのウィンターアルバムが今年も登場!
いまやDS455の代表曲のひとつにもなった「White Nite」のオーケストラバージョンをはじめ、DS455ファーストアルバムから「僕の中の少年」のトークボックスバージョン、「Night 4 Playaz」にボーカリストを加えたニューバージョンなど名曲のリメイク、なんと新曲も3曲収録!
ファンならずとも垂涎のラインナップ!
ジャケットは昨年に引き続きこの季節に輝くブリンブリン仕様。
■BAYBLUES RECORDZ presents the supreme winter album, this is the second! All songs are recorded again!
The smash hit BAYBLUES RECORDZ winter album released in the end of 2006 comes again this year! This includes an orchestra version of「White Nite」which becomes one of the representative songs of DS455, Talk Box Version of 「僕の中の少年」from the first album of DS455, the remake of great songs like the new version of「Night 4 Playaz」which add the vocalist, and also 3 new songs!
This lineup fascinates not only fans but also everyone!
The jacket of the album is bling-bling style that shines in this season like last year.
TRACK LIST
01. Intro
02. White Nite ~Orchestra Version~ : DS455+BIG RON
03. Shake It Up feat. BIG RON, RICHEE(GHETTO INC.) : DS455
04. My Day Off : BIG RON
05. 僕の中の少年 -Talk Box Version- : A☆ZACK
06. Rollin' In My '64 : DS455
07. Night 4 Playaz 2008 feat. DS455 : Iz
08. Outro

PRODUCED BY DJ PMX